Orse The Polar Bear
Wondrous books for children
Orse's books contain short stories ideal for bedtime reading and for engaging early readers.
They're also beautifully illustrated with over 100 full colour drawings in each.
Who is Orse?
Orse, the polar bear, lives in a town called Snowville, high up in the Arctic. He is a general handyman for all the folks that live there. A good natured fellow, he has many friends but often ends up in trouble with the Lord Mayor, Sir Stanley Walrus.

Orse is very fond of food; his first story sets him on a quest for some cheese. Surely this is an easy task that won't upset Sir Stanley? Or will it …?

The Books
ORSE'S FIRST BOOK
WITH FOUR SHORT, DELIGHTFUL, BEDTIME STORIES
ORSE, THE MOON AND A PIECE OF SMELLY CHEESE
ORSE, THE MOON AND A SMELLY PIECE OF CHEESE
The Moon is made of cheese, or so Orse has been led to believe. All he has to do now is to get some for himself and have a free supper. Can he succeed or will he end up with an empty plate?

THE SWIMMING RACE
Having won the sack race at the school sports day and feeling very proud with his winner's medal, Orse now thinks he is an unbeatable champion. He accepts a challenge from a family of seals to a swimming race. But seals can speed through water much faster than polar bears. Orse can't possibly win ... can he?

HAPPY BIRTHDAY ORSE
It's Orse's birthday and he is looking forward to receiving lots of birthday cards and perhaps a few presents. Unfortunately, it looks like everyone has forgotten his big day. What has gone wrong and how can his friends put things right?

THE TALENT CONTEST
Orse has written a very special song to perform on stage at the Snowville annual talent contest. Unfortunately, he gets his dates mixed up and misses the deadline to submit his entry form. Luckily, Frederick Rat has an idea which might solve the problem but will Orse still get to sing his song, And we want to Play?
Buy Now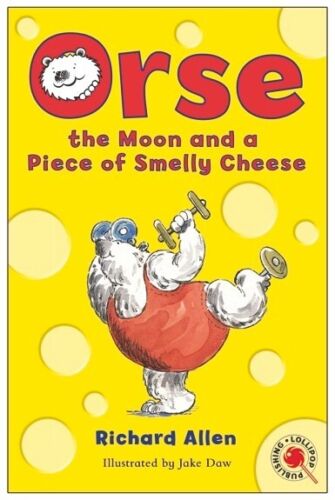 FOUR MORE EXCITING STORIES FROM THE LOVABLE, BUT ACCIDENT-PRONE, POLAR BEAR
ORSE TO THE RESCUE
ORSE TO THE RESCUE
Banjo and his ice hockey team are in big trouble and need saving fast. Can Orse help and rescue the huskies from great danger?

THE MAGIC OF THE FAIRY DUST TROUSERS
There's magic in the air at Snowville and Orse would like some for himself. But just how do you catch a fairy?
‍
HOW TO CATCH A MOOSE
Frederick Rat and Orse set out to catch a wild moose to pull Orse's sledge. Not an easy thing to do…or is it?

OHLA'S FANCY DRESS PARTY
Orse is determined to have the best costume in town. But, as usual, things don't quite go as planned…

Buy Now